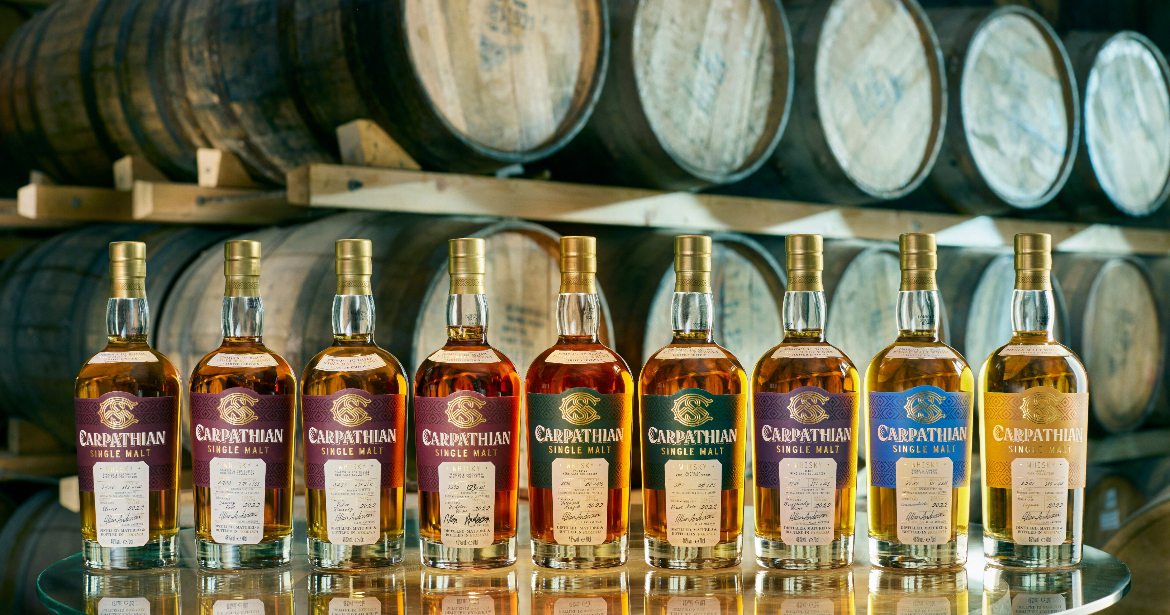 Carpathian Single Malt, produced by the Alexandrion Group, the biggest producer and distributor of spirits and wines in our country, was launched in Romania on October 27th, through a large event organized in Bucharest. The commercial launch of the first single malt whisky produced 100% in Romania, gathered more than 600 people: members of the Single Malt Society and The Whisky Club, representatives of diplomatic missions to Romania, business partners, clients, celebrities, media and influencers. They all had the opportunity to taste the Carpathian Single Malt expressions in a spectacular setting, with many decor elements and sensory experiences that reflected the brand identity.
The Carpathian Single Malt range was expanded from the 3 expressions – Fetească Neagră, Pinot Noir and Madeira- included in the exclusive limited edition of only 930 bottles and comprises now 9 expressions: Fetească Neagră and Pinot Noir, which are part of the Romanian wine cask collection, Madeira, Oloroso, Pedro Ximenez and Tawny Port, included in the Spanish and Portuguese wine cask collection, Burgundy and Cognac, from the French wine cask collection and Commandaria, part of the Greek and Cypriot wine cask collection. Commandaria will be available exclusively in Greece and Cyprus.
Carpathian Single Malt is available now for consumers and shoppers in Romania in the 0.7 l version via the online shop www.iconicdrinks.shop , part of the Alexandrion Group and via the brand website www.carpathian-singlemalt.com. Starting from mid-November it will also be available in premium specialized shops, HoReCa and retail locations and other specialized e-commerce platforms on the territory of Romania.